Vacuum insulation panels (VIP) are insulation elements in which airless spaces (vacuum) are incorporated.
In this way, excellent insulation performance can be achieved while maintaining low panel thickness.
The stable sheathing of the VIPs makes the insulation panels robust against external influences in demanding applications.
Phase Change Material (PCM) cooling elements release their stored energy to the environment during their phase transition from solid to liquid.
A passive cooling package can thus be kept safely in a predefined temperature range over a longer period of time – without additional energy supply from the outside.
With our different melting points, we can reliably cover the temperature ranges Frozen, Cold and Ambient for your thermal transport.
The Slim Line outer box, made of twin-wall-sheets, combines superior stability with extreme lightness.
It is resistant to moisture and has a high insulation capacity, even in the event of temperature fluctuations.
The Slim Line is therefore ideal for multi-way applications, heavy-duty applications and for the transport of sensitive products.
1 box. 4 temperature ranges.
The Slim Line packaging solution can be used for the common temperature ranges Ambient, Cold and Frozen. For this, only the cooling element set needs to be changed. The product line can also be used with dry ice.
The THERMOCON Slim Line multi-use passive thermal packaging features excellent thermal protection.
Tested and pre-qualified with the realistic and demanding ISTA temperature profile 7D, and with empty product space for maximum safety.
The Thermocon Slim Line maintains the product temperature even with fluctuating external temperatures, e.g. during hot-cold transports.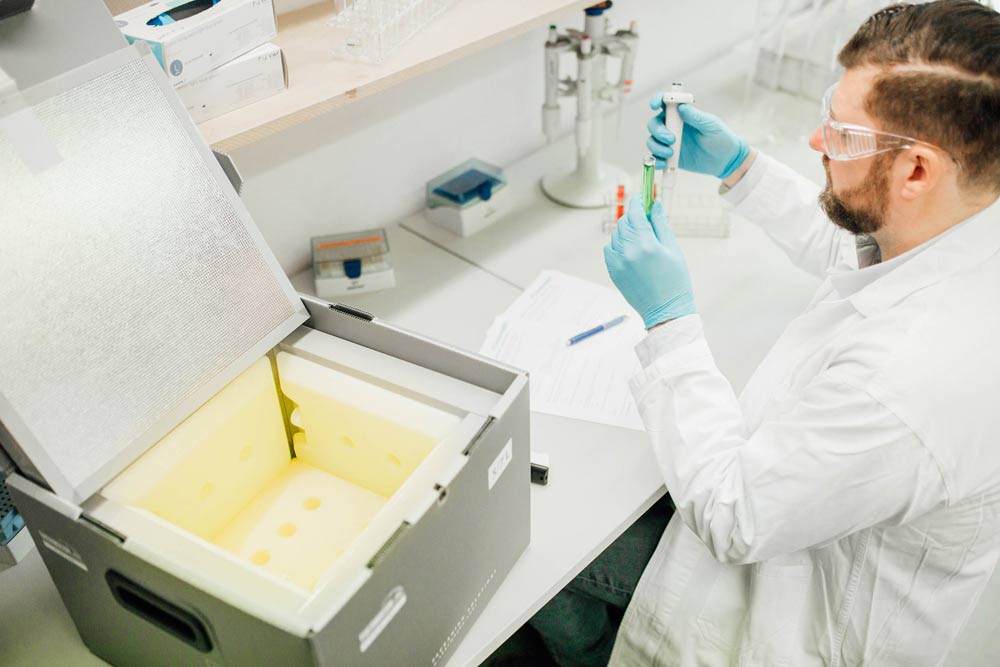 Identical cooling elements and preconditioning – regardless of the outside temperature. A consistent, "universal" packing scheme, all year round.
✓ Error-free & simplified assembly.
✓ No need to decide which packing scheme to use at which outside temperature.
✓ Safe shipping in changing outdoor temperatures, e.g. from cold conditions at the shipper to warm at the receiver.
The thermobox is always equipped with the same cooling elements and preconditioning for summer and winter outside temperatures.
The combination of robust twin-wall-sheet casing and vacuum insulation panels (VIP) with integrated shock-absorbing layer makes the Slim Line thermal packaging solution resistant to mechanical impact during demanding transports. This product line is therefore also ideal for heavy duty applications.
Overview of available capacities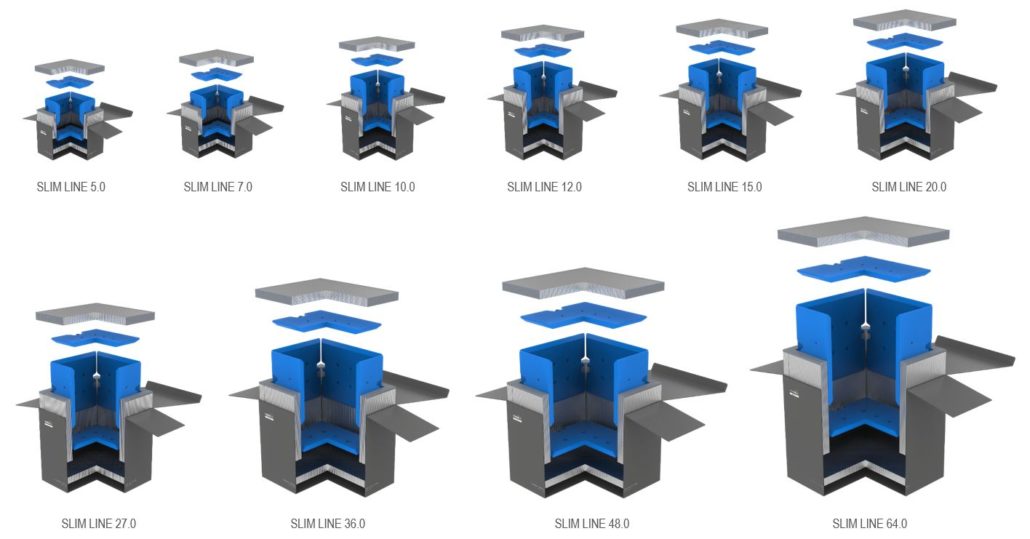 Frozen <-15°C
Cold +2 to +8°C
Ambient +15 to +25°C
Frozen <-15°C
Name
Product space
(liters)
Inner dimension
(mm) (LxWxH)
Outer dimension
(mm) (LxWxH)
Running time
with PCM
Running time
with dry ice
Slim Line 5
5
210 x 210 x 125
400 x 390 x 292
≥ 111 h *
≥ 168 h *
Price Inquiry
Slim Line 7
7
228 x 228 x 140
400 x 390 x 292
≥ 66 h *
≥ 113 h *
Price Inquiry
Slim Line 10
10
215 x 215 x 215
400 x 390 x 382
≥ 119 h *
≥ 139 h *
Price Inquiry
Slim Line 12
12
228 x 228 x 228
400 x 390 x 382
≥ 83 h *
≥ 122 h *
Price Inquiry
Slim Line 15
15
280 x 228 x 228
475 x 390 x 382
≥ 108 h *
≥ 168 h *
Price Inquiry
Slim Line 20
20
300 x 300 x 228
475 x 465 x 382
≥ 110 h *
≥ 130 h *
Price Inquiry
Slim Line 27
27
300 x 300 x 300
475 x 465 x 455
≥ 116 h *
≥ 161 h *
Price Inquiry
Slim Line 36
36
400 x 300 x 300
580 x 465 x 455
≥ 139 h *
≥ 138 h *
Price Inquiry
Slim Line 48
48
400 x 400 x 300
580 x 570 x 455
≥ 161 h *
≥ 161 h *
Price Inquiry
Slim Line 64
64
400 x 400 x 400
580 x 570 x 560
≥ 127 h *
≥ 110 h *
Price Inquiry


Nothing suitable?


Write us an e-mail


* Minimum running time
Cold +2 to +8°C
Ambient +15 to +25°C