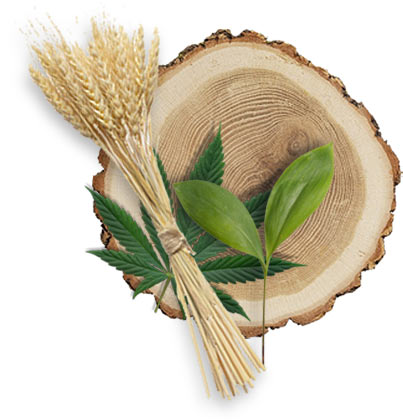 Grass, hemp and other natural materials are ideally suited as raw materials due to their consistent growth. They can be harvested several times a year and do not compete with food crops.
At the same time, natural raw material has a great environmental balance. When hemp grows, for example, vast amounts of CO₂ are absorbed – more than is produced during cultivation and harvesting. Hemp plants are also naturally resistant to pests and suppress weeds. Chemical fertilizers and pesticides can therefore usually be dispensed with. Grass as a natural raw material also comes from agriculturally unused meadows, which on the one hand provides an urgently needed habitat for bees and other insects, but also has a positive effect on the environmental balance. Chemical additives can be dispensed with. In addition, grass hardly requires any additional water or energy during growth.
The minimal use of polymeric binding fibers thus results in sustainable insulating panels with a superior environmental balance.

Minimum carbon footprint.
The raw materials hemp and grass are CO₂ neutral. As the plant grows, more CO₂ is absorbed than is emitted for its cultivation and harvest. Moreover, hardly any additional water, energy or chemical additives are needed to produce the sustainable raw material. The rapidly regrowing natural fibers can be harvested several times a year. This creates sustainable packaging solutions with a minimal carbon footprint.
Protection of shipped goods.
Natural fibers provide excellent protection of products from thermal and mechanical influences. The soft mats dampen movements of the products inside the shipping box. Unlike straw, hemp and grass fibers have a natural protection against mold. The open pores of the natural fibers can absorb and release moisture. This makes the thermo boxes well suited for the use of dry ice and cooling elements. The soaking of the outer carton known from straw boxes is prevented.
Used and no longer needed natural fiber panels of the THERMOCON Nature boxes can be returned 100% to the production process. Thus, new thermoboxes are created and the cycle is closed #closetheloop. Alternatively, used panels can be disposed of in an ecologically sound manner and without any problems via household and commercial waste.
Thermo boxes for food & pharma
24 to 48 hours runtime | below 8°C or below -15°C
The natural fiber boxes are tested under realistic conditions for the deep-freeze range with dry ice and cold range with gel packs.
You will receive the pre-tested complete systems, designed for 24 or up to 48 hours running time.
We are also happy to design the complete systems according to your individual needs. With your products, your runtimes, your requirements. Designed by our engineers, tested in our climate chambers. Contact us.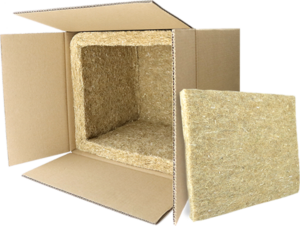 Natural fiber mats without cardboard cover.
Ecological insulation immediately visible.
Natural fiber insulation mats,
outer carton.
Natural fiber mats fully lined with cardboard.
Natural fibers do not enter the product space.
Natural fiber insulation mats – fully lined,
inner carton and outer carton.
| | THERMOCON Nature 5 | THERMOCON Nature 14 | THERMOCON Nature 24 | THERMOCON Nature 55 |
| --- | --- | --- | --- | --- |
| Outer dimension (LxWxH) | 285 x 225 x 225 mm | 365 x 305 x 295 mm | 430 x 370 x 320 mm | 605 x 430 x 380 mm |
| Product space volume | 5 liters | 14 liters | 24 liters | 55 liters |
| Product space dimension | 210 x 150 x 145 mm | 290 x 230 x 215 mm | 350 x 290 x 235 mm | 530 x 350 x 295 mm |
| Wall thickness | 30 mm | 30 mm | 30 mm | 30 mm |
| Weight | 710 g | 1330 g | 1770 g | 2540 g |
| | Request Price | Request Price | Request Price | Request Price |
Sustainability does not end with the outer packaging.
Our most economical cooling element with 100% recyclable foil.
This gel pack is best suited for disposable applications.
The melting point is 0°C.